A Steampunk Mystery Series You Need to Read
We recently interviewed Dan Willis, the author of the Arcane Casebook steampunk mystery series. This series is incredibly popular. You can tell because the reviews aren't just on the first book. It has record setting reviews on ALL the titles…including over a hundred on the one just released last month.
In Plain Sight
When a magical plague is released in a Depression-era New York soup kitchen, private detective Alex Lockerby finds himself in a desperate hunt to catch a madman before he can strike again.
His investigations lead Alex to a famous thief, a daring heist, and the search for a mythic book of ancient magic, but none of that brings him any closer to finding the man responsible for the massacre. With the police and New York's Council of Sorcerers desperate to find the culprit, Alex becomes a suspect himself, thanks to his ties to the priest who ran the soup kitchen.
Now Alex has his book of spells, a pack of matches and four days to find out where the plague came from, or that authorities will hang the crime squarely on him.
Ghost of a Chance
When a bizarre string of locked-room murders terrorize New York, the police have no leads, no suspects, and only one place to turn. Now private detective Alex Lockerby will need every magical trick in his book to catch a killer who can walk through walls and leaves no trace.
Unfortunately Alex's magic hasn't been working very well. He can't even manage to track down several truckloads of stolen goods, including one belonging to New York's preeminent sorcerer, Andrew Barton. To make matters worse, Alex and his clients are being stalked by a shadowy cabal with strange powers that Alex has never seen before.
With the Ghost killer seemingly able to murder at will and the tabloids, the public, and Alex's clients demanding results, Alex will need a miracle to keep himself, his clients, and his reputation alive.
The Long Chain
When New York is blanketed in an unnatural fog, Private Detective Alex Lockerby finds himself on the trail of a missing scientist, a stolen military secret, and a merciless killer leaving a trail of bodies in their wake.
In a city the size of New York, things go missing all the time. When a Nobel-Prize winning Chemist vanishes without a trace, his granddaughter taps Alex to find him. Locating people is easy for someone with the best finding rune in the city, but when Alex tracks down the missing man, he has no memory of who he is or what happened to him, and his research is missing.
Convinced that something larger is going on, Alex sets out to uncover the truth. Before he can learn anything concrete, however, the city is shrouded in a dense fog and that brings New York's resident sorceress, Sorsha Kincaid, to his door. She needs Alex's finding rune in order to trace the source of the unnatural fog, and she has no patience for his other cases.
Now Alex must keep the volatile and powerful sorceress happy as he tries to unravel a tangled web of science, murder, and missing memories before the clues vanish into the ever-present fog.
Mind Games
What do a murderous housewife and a wayward heiress have in common? If Alex Lockerby is right, someone is manipulating them against their will. Now all he has to do is unravel a dark tapestry of family, politics, wine, money, love, and murder before the people behind it put an end to him.
Alex Lockerby's father once told him that It's the simple jobs that take the longest, and finding missing things is about as simple a job as Alex can get. When wealthy socialites hire him to track down their wayward daughter, finding her is easy, but that's just the beginning of his problems.
As he's trying to deal with the no-longer-missing heiress and her family, Alex gets another case from a desperate young man. He wants Alex to prove his wife is innocent of murder, the only problem is that she was caught, red-handed. Alex takes the case, figuring it should be easy to prove what happened one way or another, but the more Alex looks into the murder, the worse it seems. The only thing he can't find is a motive.
As Alex investigates he becomes convinced that both of his clients are being manipulated by someone with a bigger agenda. He knows he's on the right track when a would-be assassin takes a shot at him. Now Alex has to figure out who's running a deadly con game in Manhattan, hopefully before he and his clients become the sacrifice pawns.
Limelight
When a madman starts robbing banks the really old fashioned way, by blowing holes in them with magical explosives, the police want Alex to catch him before he kills and robs again. There are two problems with that, however, first as far as Alex knows there's no such thing as a blasting rune, and second his friend Danny Pak is up for a promotion and that's not Danny's case.
Alex splits his time between chasing the homicidal bomber and helping Danny figure out what happened to a dead writer who was basing her book on Broadway's most famous murder. While the bomber continues to elude Alex, he becomes convinced that the writer was killed by someone who wanted the old murder to remain unsolved. Before he can pursue either case further, however, the feds show up, wanting Alex's take on a series of bizarre magic related deaths.
Now Alex must solve the fifteen year old Broadway murder, catch a blast-happy bank robber, and figure out how average people are being killed by a mysterious, untraceable magic. All the while he has scant leads, even fewer suspects, and the inescapable feeling that he's being played.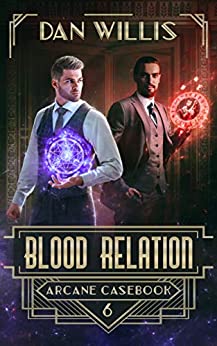 Blood Relation
Young women are turning up dead, exsanguinated by a killer who leaves strange and powerful symbols behind, drawn in his victim's blood. Now Alex Lockerby must stop the killer before he can complete his dark ritual and release hell on the city.
Murder isn't uncommon in a big city, but when young women start turning up dead next to mysterious symbols painted in their blood, the police turn to Alex Lockerby to find the killer. Unfortunately, the bloody symbols aren't any form of magic Alex knows, leaving him precious little to work with and a nagging feeling that he'd better stop this madman before he finishes whatever spell he's attempting.
Adding to the list of unknown symbols, Alex is called to the murder of a woman who worked with government secrets. She was found with strange coded markings written on a blackboard near her body. To make matters even more confusing, several robberies have been perpetrated by a highly skilled gang of thieves. Among the stolen articles were ingredients used by alchemists. These cases seem random and unconnected, but Alex can't shake the feeling that they're part of something bigger.
With a brutal killer on the loose, Alex must figure out an unknown magic, catch a group of professional thieves, and learn what government secrets the murdered woman might have passed on…and to whom. With luck, he might even be able to do it before the blood killer completes his dark ritual, and unleashes hell on the city.
If you really dig noir detective fiction stirred in with steampunk sorcery, then go ahead and snag the whole series. You will NOT be disappointed!