A Steampunk/Gaslamp Fantasy Series You Should Read
Looking for something to enjoy as the frosty winds blow? Do you dig steampunk AND gaslamp fantasy? Then check out A. W. Exley's Artifact Hunter's Series. It's wicked in all the right ways.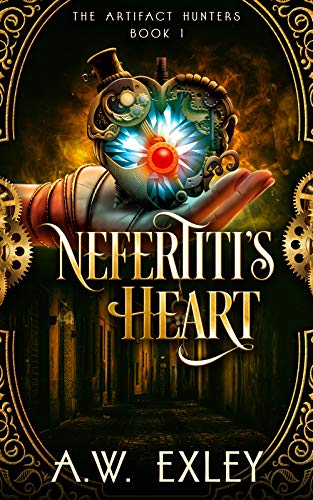 Nefertiti's Heart
Cara Devon has always been curious and impulsive, but tangling with a serial killer might cure that. Permanently.
Cara has a simple mission in London – finalise her father's estate and sell off his damned collection of priceless artifacts. Her plan goes awry when a killer stalks the nobility, searching for an ancient Egyptian relic rumoured to hold the key to immortality.
Nathaniel Trent, known as the villainous viscount, is relentless in his desire to lay his hands on both Cara and the priceless artifacts. His icy exterior and fiery touch stirs Cara's demons, or could he lay them to rest?
Self-preservation fuels Cara's search for the gem known as Nefertiti's Heart. In a society where everyone wears a mask to hide their true intent, she needs to figure out who to trust, before she sacrifices her own heart and life.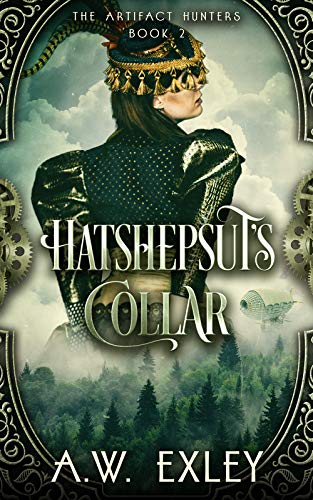 Hatshepsut's Collar
An ancient Egyptian artifact is driving Queen Victoria insane, and that's not top of Cara Devon's growing list of problems. Viscount Nathaniel Lyons is a man of numerous secrets, but there is one in particular that threatens his fledgling relationship with Cara. Stunned by Nate's revelation, and before she can absorb the ramifications of his actions, he is arrested, charged with treason and imprisoned in the grim Tower of London. He stole something the mad queen wants, and only has days to deliver, before his date with the executioner.
Although sorely tempted, Cara can't let him die on Tower Green, not when their connection means she would share his fate.
Only together can Cara and Nate figure out how to wrestle Hatshepsut's Collar from around the queen's neck, before she plunges Britain into a world war. The search for answers sends Cara to the opulent Winter Palace of St Petersburg and the frozen depths of Siberia, with every step shadowed by an enemy with his own dark plans.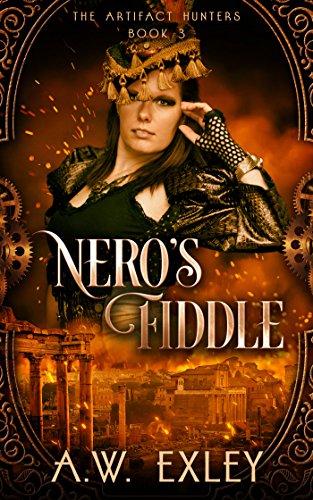 Nero's Fiddle
One death by spontaneous human combustion is a rare act of God.
Two… is surely a freakish coincidence.
Three… well, that's starting to look deliberate.
Cara has a new role as Queen Victoria's artifact hunter, she's adapting to married life and living in a country manor that more closely resembles a mausoleum.
In London, Inspector Fraser investigates a series of strange deaths by divine fire – except he doesn't believe in coincidences. Despite himself, he enlists Cara's help to identify what artifact could cause such a hideous death while his desire to bring her husband to justice burns unabated.
Someone's intent on making sure a decades old secret stays hidden and Cara must figure out who is responsible before this case consumes her family and rocks the entire realm to its foundations.
Moseh's Staff
All things must come to an end…
London is in the frozen grip of an unnatural winter and Queen Victoria wants answers. Cara and Nate know who – the Curator. The queen's artifact hunters just don't know what is responsible. Cara is on the trail of an ancient and powerful artifact capable of freezing a city and stirring demons. First she must confront her past and her father's history. Only in learning why her father became a disciple of the Curator can she hope to learn what the old noble seeks and why he is so fascinated by her.
Then tragedy strikes and the bond forged by Nefertiti's Heart is severed. Nate without Cara succumbs to his darkness and he lashes out at those he holds responsible for her loss. Meanwhile, in the shadows, Inspector Fraser waits for his opportunity to pull down the man known as the villainous viscount.
With London entombed in ice and all hope lost, could this be the end…?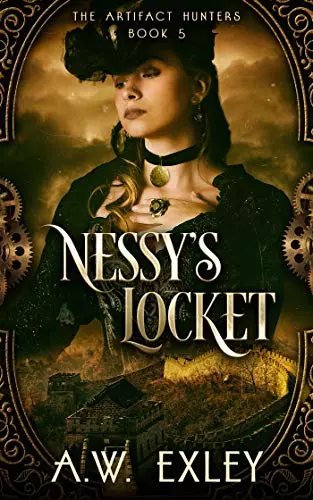 Nessy's Locket
Dragons have taken up residence at Lowestoft and Queen Victoria is not amused.
The queen is on the warpath and to protect the mythical beasts from treasure hunters, Cara needs to find the foundation stone from the Great Wall of China. To add to her problems, there's a strange box hidden deep under the Lowestoft estate that makes her skin crawl and steals the air from her lungs. Nate is trying to find a way to make it reveal its secrets, but Cara would rather drop it in the deepest, darkest part of the ocean.
Quite apart from arguing with the monarch and catching those who hunt her dragons Cara faces a far more terrifying trial–impending motherhood. Childbirth always ends in tragedy for her maternal line and even her bond with Nate might not be strong enough to battle Mother Nature…
Dragons? The Great Wall of China? What are you waiting for?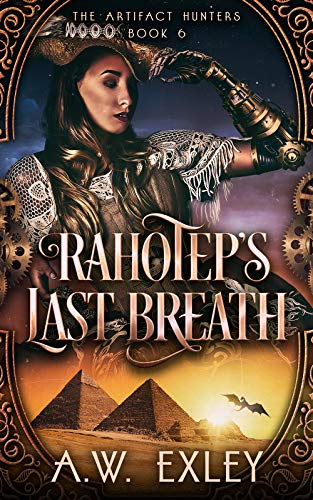 Rahotep's Last Breath
One word will shatter her heart…
Cara finally unearths a clue about the mage who created Nefertiti's Heart, but there's one prospect more terrifying than whatever lurks in the obsidian chest… her daughter leaving home.
On her eighteenth birthday, Rachel announces her intention to embark on an adventure. She wants to break free of her family's protective care, see the world, and escape the whispers in her head that have grown more insistent.
The two women journey to Egypt on the trail of an ancient mystery, but Rachel chafes under maternal bonds. As Cara is drawn back through time to walk in the footsteps of Nefertiti, mother and daughter need to forge a new relationship. Only if they stand united to confront the voice from the shadows can they stop the man intent on destroying everything they love…
Mages and Egypt? You betcha!
In fact, I don't blame if you went ahead and simply grabbed the whole series as a nice little digital stocking stuffer.