6 Cool Steampunk Fairy Tales You Should Be Reading
If there's something that's fun to do, it's curling up before the fire (or perhaps a seasonal space heater?) and enjoying a fairy tale.
Only we don't settle for just any fairy tale. We want a steampunk one!
Say no more. Check out this collection of steampunk fairy tales!
Ice and Embers: Steampunk Snow Queen
t takes more than passion and pixie dust to thaw a frozen heart.
With the 1814 London Frost Fair in full swing, actress Elyse McKenna's performance in A Midwinter Night's Dream thrills the crowd. But Elyse's backstage has life is beginning to take on a distinctly Shakespearean flavor.
When she fell in love with Lord John Waldegrave, Elyse was prepared to keep their affair secret. But she wasn't ready for her new love to rock her relationship with her dearest friend, Doctor Kai Murray.
Everything Elyse thought she knew about her feelings for her old friend is flipped upside down when an enchanting ship captain turns her attention to Kai.
If Elyse hopes to escape the Thames with her heart intact, she must discover the truth about the captain, Kai, John, and her own feelings–before it's too late.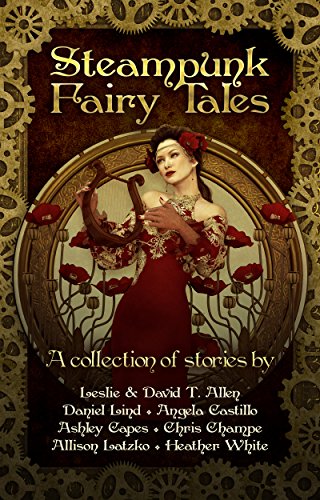 Steampunk Fairy Tales
A toyshop owner builds a set of magic clockwork dolls that delight a factory town. A three-inch tall samurai faces a giant iron ogre with only a sewing needle and a coin. A scientist seeks an antidote to his formula gone wrong, with the help of his partner's beautiful daughter.
All of these stories and more are included in Steampunk Fairy Tales. Written by authors from three different continents, every enchanting tale combines the futuristic Victorian concept of steam and fashion with memorable stories, from the recognizable "Jack and the Beanstalk", to other popular and unfamiliar works from Germany, France, Italy and Japan.
With steam driven gadgets such as mechanical goggles, hoverboards, and an orchestra of automatons. Steampunk Fairy Tales is a charming and unique collection of works for current lovers of the genre, and those just diving in.
Cool! I want this anthology now!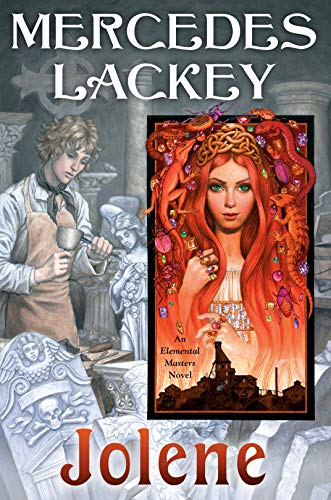 Jolene
The beloved Elemental Masters series moves to America for the first time in a rich retelling of The Queen of the Copper Mountain, set against the backdrop of Tennessee coal country.
Anna May Jones is the daughter of a coal miner, but a sickly constitution has kept her confined to the house for most of her life. Hoping to improve her daughter's health—and lessen the burden on their family—Anna's mother sends her to live with her Aunt Jinny, a witchy-woman and an Elemental Master, in a holler outside of Ducktown.
As she settles into her new life, Anna learns new skills at Aunt Jinny's side and discovers that she, too, has a gift for Elemental magic that Jinny calls "the Glory". She also receives lessons from a mysterious and bewitching woman named Jolene, who assures her that, with time, Anna could become even more powerful than her aunt.
But with Anna's increasing power comes increasing notice. Billie McDaran, the foreman of the Ducktown mine, begins to take an interest in Anna and her abilities—even though Anna has already fallen in love with a young man with a talent for stonecarving.
I love new fairy tales I've never heard of. And this one looks great!
Black Ice
The path to the throne is a dangerous one
All her life, Princess Snow of House White has had to tread carefully. The powerful Contratulum plans to use her as its puppet. Her aunt wishes her dead. And as for her stepfather – well, Snow has no illusions about what he desires from her.
Escaping an assassination attempt, Snow finds sanctuary with the mysterious Ronin – the Captain of a band of outlaws living deep within the Great Forest. These seven are all that is left of the Dwarvians, a once proud and powerful people driven to the brink of extinction by the Contratulum.
When the seven Dwarvians pledge to help Snow claim her throne, the race is on to enlist allies using forbidden airship technology. But the clock is ticking …
With only two weeks to go before her coronation, and facing almost insurmountable odds, Snow and her friends must push themselves to the limits of their endurance – and beyond.
Think you know the Snow White story? Think again!
Fairy Bound
No one ever expects to grow up to become a Fairy Princess.
Spinster schoolteacher Portia de Allard has never known her real parents, having spent all of her childhood at a foundling's home. When a mysterious man with delicate features and pointed ears hidden underneath a bowler hat tell her that her birth father is dead and she is the next heir to the Fae throne of Evris, she does the sensible thing and calls the Watch on him.
She's nothing special, she's always known this. The man is surely nothing more than a snake-oil salesman. It's every girl's dream to be a secret fairy princess, but no one expect it to actually be true…
When the mysterious man's warning comes true and she finds herself the target of some very determined faerie assassins, she can't help but wonder if he might be telling the truth after all. Especially when a breathtakingly handsome fae prince with shimmering amethyst eyes comes to her rescue, purporting to be her betrothed.
Telling herself that she is merely fulfilling a sense of curiosity, she goes to her so-called kingdom of Evris and experiences all the pleasures that the Silver City has to offer.
Portia has no intention of accepting the crown, knowing at heart she is just a common schoolteacher, not this fairy princess everyone seems to think she is. She knows nothing of governance, faerie law, or even common faerie etiquette.
But beautiful faerie faces smiling behind their jeweled fans and silken kerchiefs, hides a vicious treachery that Portia has never experienced and she quickly finds herself at the center of a dangerous conspiracy that could plunge not only Evris, but her beloved human city into a magical war that could cost countless lives, fae and human alike.
And whether she wants to or not, she soon learns that the greater good requires the greatest sacrifice of all…
Her heart.
The Renegade Within
A desperate experiment turns to disaster. A dark conspiracy corrupts an ancient Order. Only a fallen paladin can defend a vulnerable god.
When an inexplicable massacre devastates a hidden laboratory, Terese Saarg plunges into a desperate hunt. The chaos-infected survivors must be destroyed before they begin changing. And before they reveal her involvement.
Tracking the infected and impatient for answers, Terese travels to distant lands where her every move is watched as her secrets unravel. Eerily familiar dark discoveries threaten her life and devotion to her Order. The more she learns of the escaped infected and the impossibly powerful killer, the closer she comes to losing her family and everything she's built.
Terese strives to bring a malevolent conspiracy to light, while protecting her fellowship. But how can she prevent more innocent deaths without destroying her Order?
Impossible powers are revealed. Angry gods strike where darkness lurks. Unearthly experiments reveal more inexplicable massacres. Memories are altered, secrets are revealed and truth becomes lie.
And Terese must face the most horrific question of all: What powerful new monstrosity plots to kill a god?
Wow. Must. Grab. Now!